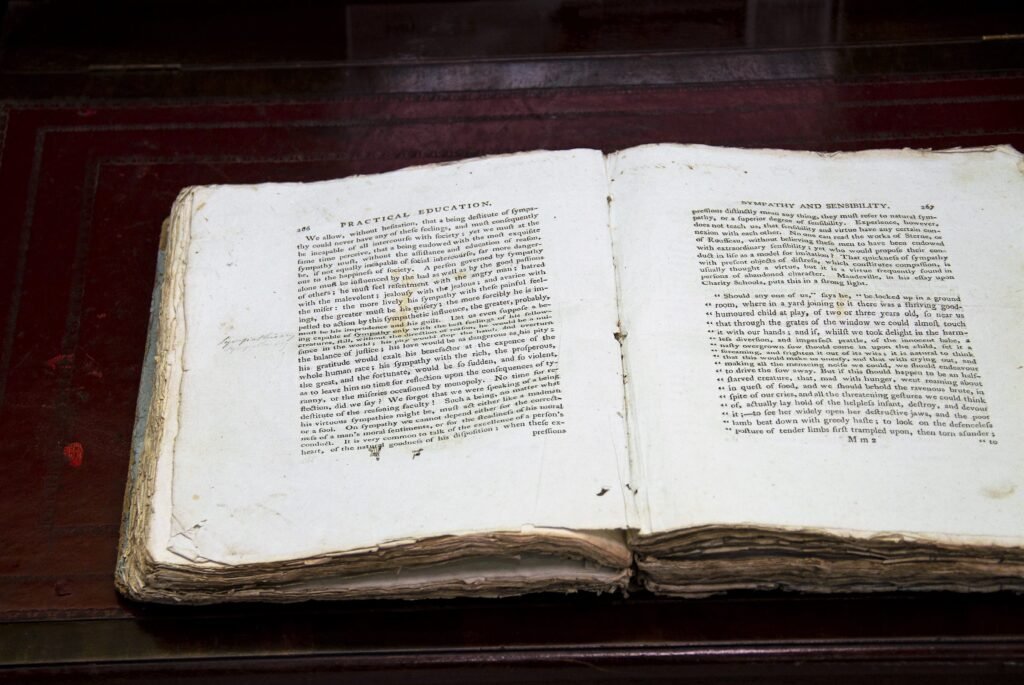 Reflections on the 1st Maria Edgeworth International Education Conference
Rich heritage and history hidden in Edgeworthstown, Co. Longford
Like most Longford denizens I know Edgeworthstown like the back of my hand. Or that's what I thought until the rich heritage and history hidden behind the streets of this small town, were brought to light recently by the dedicated labour of Matt Farrell and The Edgeworth Society.
You could say that Maria Edgeworth and her father Richard Lovell Edgeworth were the proverbial prophets not without honour except in their own land. But they have been resurrected, researched and restored to their rightful place in the history and evolution of schooling and education by the determined people of this dedicated society.
So it came to pass that 225 years after the publication in 1798 of 'Practical Education' a treatise, by Richard Lovell Edgeworth and his daughter Maria, (that became the catalyst for the passing of the Education Act 1831), was the subject of the first International Education Conference held on 5th May 2023 in the town of Edgeworthstown. Titled 'The Education of a Nation- the Role of the Edgeworths'
'If we take care of the moments, the years will take care of themselves'
The morning of this International Education Conference was bright and Edgeworthstown was bustling. The venue was St Mary's Community Campus. How fitting that we joined the parents, pupils, cars and baby carriages hurrying to the National School and littler ones scampered eagerly into the Child Care Centre all on this one campus. Their lively chatter and happy faces signs of the dream of Maria – 'the greatest possible happiness of the whole society' being lived out here in her home town.
Our venue was the spacious Community Centre next door, decked out in Edgeworth style with welcoming banners, floral displays in a purple jar and a quill pen beside familiar quotations from Maria 'If we take care of the moments, the years will take care of themselves'.
The Edgeworth Vision
Well, we were in an andragogic moment today, learning for the very first time about the Edgeworth vision for hands-on learning and their applied psychological theories that transformed educational culture. We were about to be educated about Maria and her father Richard Lovell, her stepmother Honora Edgeworth, Ysidro Edgeworth and more. Richard had twenty-two children from four marriages, so there were a lot of them.
International Teachers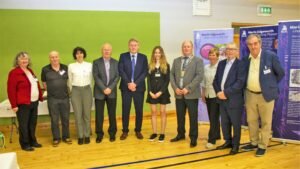 Oh, and one more detail, our 'teachers' today were not from Edgeworthstown but professors and pedagogues from the University of St Andrews in Scotland, York in England, Froebel College NUI Maynooth, Universitá Degli Studi, Rome and Harvard, USA. All were experts on the teaching and theories of the Edgeworths and their relevance and application in the modern training and pedagogics of their various teacher training programmes.
In the audience at this International Education Conference were practising teachers, taking the morning out from their busy classrooms, retired teachers from primary and second level schools, lecturers and heads from teacher Training Colleges and many others besides, simply interested in history and the Edgeworth story.
Without exception all were blown away by the analysis and admiration of these lecturers for Maria and the Edgeworths and how 'her teachings' are firmly embedded in their training courses and not just in English speaking colleges.
The Speakers at the International Education Conference
 'Maria Edgeworth's stories as a teaching aid & the application of Edgeworth's pedagogic principles'
Professor Raffaella Leproni, Università Degli Studi Roma TRE, Italy
Raffaella spoke of using Maria Edgeworth's meaningful stories to teach children not just linguistics but values for life and for living in an inclusive society. Listen to the voice of the child. Practical Education defined education as a science and not just an adult instructing a child. Experience and experiments are a valuable tool for learning. In Italy they use Maria Edgeworth's stories as a teaching aid and they follow Edgeworth's pedagogic principles. Raffaella was a fascinating speaker, in perfect English too! (watch her presentation HERE)
'An "experimental science": Placing Practical Education in the history of child psychology'
Dr Joanna Wharton, Research Associate of the University of York
She too spoke of experimental education as in allowing the child to experience and explore to learn and understand. She also cited Honora Edgeworth's use of psychology, noting that love and esteem are most effective in encouraging obedience and shaping character in the young. (watch her presentation HERE)
''The greatest possible happiness of the whole society'; Practical Education (1798) and the Irish Nation'
Prof. Susan Manly, University of St Andrews, Scotland
Dr. Susan Manly is an expert and an avid admirer of Maria and is presently completing a political biography of Maria Edgeworth. She quoted Maria own words, 'education should look forward, fashion character for the future. make the child confident in their own mind. Teach them to find happiness. Always avoid shaming children- hope must be kept alive; all the magic of talents and powers of genius spring from hope'! (watch her presentation HERE)
Conversation hummed with Excitement
Each speaker prompted lively questioning and comment from the audience but it was at the coffee break and over lunch that the conversation hummed with the excitement of the Edgeworth philosophy that was unfolding at this inaugural education conference.
Elizabeth wished the present teachers could have heard today's lectures – they were brilliant. The whole day was tops academically wise, said John, 'It brought her [Maria E.] alive! Telling us what we needed to hear! A lot of positivity in content and a rare experience for us, on our own doorstep.'
'They know more in Rome about Maria than we do', remarked Eamonn.
Involvement of local pupils – becoming artists and engineers
There was an input too from today's pupils in the local national school. Confident
and competent sixth class boys and girls showed off some lovely project work including 'The Ingenious Mr Edgeworth' and the pulley system he designed and engineered to place the spire on St John's Church and they had a working model to prove it. Practical Education inspired art work, gardening and even playing Chess. There was a display of Maria Edgeworth books; Little Plays and The Parent's Assistant.
'We need to come back and see Edgeworthstown again' said another John, 'six leading lecturers here, just like Maria and her contemporaries -Walter Scott, Humphrey Davy et al. It's a great credit to the organisers!'
'Similarities between the educational theories of Friedrich Froebel and Maria Edgeworth and their continued relevance today'
Brian Tubbert, Senior Lecturer, Head of Froebel College (Retired)
Retired head of education at Froebel College NUI Maynooth and innovative educator Brian Tubbert spoke of the similarities between the Froebel and Edgeworth theories. He painted the modern scene in an Irish Froebel classroom. Children wandering and wondering! 'Have respect for childhood', he counselled, 'develop the whole child. Play is a child's work!' From the audience former Froebel College teacher Veronica Whelan endorsed the relevance today of these theories. (watch his presentation HERE)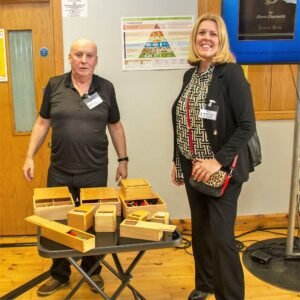 'The quality framework for early years education in Ireland today'
Imelda Graham, M. Phil, Independent Play and Learning Consultant
Imelda Graham, expert on learning for children up to six years and developer of the Aistear early years program for schools, endorsed the role of play in the lives of both children and adults. She made an interesting observation regarding the disappearance of the big traditional baby pram. An infant seated in this was at adult level, facing the parent, while the modern forward-facing buggy does not encourage communication or interaction at all.
She quoted, many times, from Practical Education, endorsing the value of allowing the child the space and time to explore and learn. She talked of scaffolding learning, – children learning from each other and indeed that they learn different things all at the same time. There was much empathy evident between the practising teachers present and Imelda. (watch his presentation HERE)
'Lessons in Pedagogy from 'Practical Education''
Joani Etskovitz, PhD, Harvard University
Our final speaker on the day was a Ph D student from Harvard University, Joani Etskovitz. She spoke on taking lessons on pedagogy from 'Practical Education', she noted too that Honora, Maria's new stepmother, was very influential in the production of 'Practical Education'. Joani referred to Harriet's annotated book remarking that 'writing on a book infers ownership of it'. She favoured mothers / parents writing on the pages too, drawing attention to good passages and paragraphs. The Edgeworth children were always supported in their adventures through reading.
And so, Joani our final speaker echoed the child centred, experiential message of Practical Education with a wisdom and knowledge of Maria Edgeworth that impressed us, her audience, and guaranteed that the theories of Maria would continue to set the standard for the successful and happy education of the young for years to come. (watch his presentation HERE)
The Edgeworths of old and The Edgeworth Society of today
So, the first International Education Conference came to a close. It had brought to life the practical education theories of Maria Edgeworth and her father Richard Lovell Edgeworth's and their book Practical Education published 225 years ago this year.
We had been enlightened about one of our own and as I drove out of this modern campus with all its child centred amenities, I saluted the people of Edgeworthstown for their investment in their youth.
The thought crossed my mind, Maria Edgeworth's book is a manual for the Irish proverb, Mol an óige agus tiocfaidh sí. (Praise youth and it will flourish).
May the work of The Edgeworths of old and The Edgeworth Society of today flourish for many generations to come.
Kitty Hughes, 21st June 2023